NEWS
VIDEO: Meet the Faces of 'The Social Network'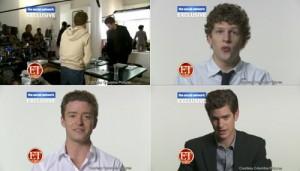 The cast of the upcoming film The Social Network are definitely Facebook-worthy, but before you go and friend request them, take this behind-the-scenes look at the film the Web has been buzzing about!
OK! GALLERY: JUSTIN TIMBERLAKE PULLS UP TO SET WITH MILA KUNIS
The Social Network was inspired by the true story of a Harvard student who created a networking website, which became known as Facebook and today has approximately 500 million members.
Article continues below advertisement
Jesse Eisenberg plays Harvard genius Mark Zuckerberg, Andrew Garfield plays Mark's friend Eduardo Saverin (who is with Facebook from the beginning but later sues him) and Justin Timberlake plays Sean Parker, the entrepreneur that founded Napster and eventually became president of Facebook in 2004.
OK! VIDEO: THE SOCIAL NETWORK TRAILER SHOWS FAMILIAR FACES
"I don't feel a responsibility to mimic anyone who's living," Justin tells Entertainment Tonight about playing a real-life person. "I feel a responsibility to create a character that's interesting for the film, and I feel that's what we're all doing."
But Jesse can't help but view his co-star Justin as a rock star!
"Justin, when I heard that he was going to play that part, I thought it was such a great choice," Jesse explains, "and selfishly so, because my character sees him as like a rock star."
OK! GALLERY: HOLLYWOOD HEAVY HITTERS HIT HOLY ROLLERS PREMIERE
And Andrew looks up to his co-star Jesse!
"My relationship with Jesse is my linchpin, that's all I kind of have to anchor me to the circumstances, and if he didn't feel like a brother to me, then it wouldn't work," Andrew says.
Sounds like they've formed their own network while working on this film!
Go behind the scenes of The Social Network below!
The Social Network takes over theaters on Oct. 1.