NEWS
VIDEO: Michelle Williams Finally Speaks Out on Heath Ledger's Death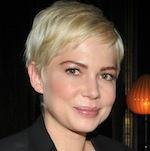 After taking much needed time to recover, Michelle Williams has finally decided to speak out about the death of her former fiancé Heath Ledger back in 2008, in an interview on ABC's Nightline Tuesday.
"There is a line from a book that gave me so much comfort that said, 'When you have truly lost everything, at least you can become rich in loss,'" Michelle said on ABC of coping with Heath's sudden overdose.
Article continues below advertisement
Michelle and Heath, who met on set of the film Brokeback Mountain, have a daughter together, 5-year-old Matilda.