NEWS
VIDEO: Nikki Reed's Ready to Fight for Rosalie's 'Breaking Dawn' Moment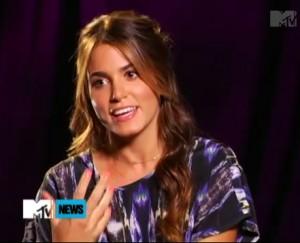 The Twilight Saga films may appear to be all about the golden three: Robert Pattinson, Kristen Stewart and Taylor Lautner, but Nikki Reed says she still puts a lot of pressure on herself to perform well even if she's only giving the camera a short glare!
OK! GALLERY: KELLAN & NIKKI HEAT UP L.A.
Nikki may not have as much camera time as others in Twilight, but she still worried about preforming her role of Rosalie to the standards Twi-hard's hold.
Article continues below advertisement
"I find that people who've read the books kind of understand Rosalie, and that's been the biggest challenge with playing her — when you make this series, clearly it has to revolve around this epic love story," Nikki told MTV News. "The rest of us are kind of fighting in the background to have any kind of moment. You're always afraid that the moment you do have, you'll overdo because you wanted to have something behind it. Even if it's just a look or a sentence or a glance."
OK! VIDEO: NIKKI REED REVEALS ROSALIE & BELLA'S BREAKING DAWN RELATIONSHIP
Nikki is looking forward to fleshing out Rosalie's character even more in Breaking Dawn.
"With Breaking Dawn, we're only going to go deeper into that. I haven't read the script — I don't know what it's going to be like — but I think Melissa's done a great job in keeping them pretty close to the books, Nikki explained of Breaking Dawn screenwriter Melissa Rosenberg. "I can't think of anything we've missed in the films. I have faith that Bella and I are going to get really close."