NEWS
VIDEO: OK!'s Sexy Singles Big Apple Bash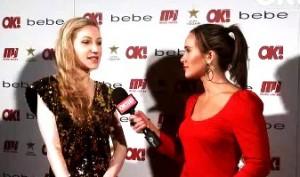 Hollywood's hottest names took over Juliet Supper Club on Tuesday night in NYC for OK!'s Sexy Singles event, and OK!'s video cameras were there to catch all the action! So what does it take to be sexy? We wanted to find out!
Katrina Bowden, Dhani Jones, Tinsley Mortimer and Kelly Choi shared with OK!'s Laura Lane what they find sexy, before heading inside to mix and mingle.
Article continues below advertisement
Dhani has a long list of traits he's looking for — "witty, intelligent, well-traveled, well-spoken, nice hands..." just to name a few.
While Tinsley's ideal traits in a mate can be found in one hot celeb, Gerard Butler!
OK! VIDEO: OK!'S SEXY SINGLES DIVULGE THEIR SECRETS!
CHECK OUT THE VIDEO BELOW:
By use of this code snippet, I agree to the Brightcove Publisher T and C
found at https://accounts.brightcove.com/en/terms-and-conditions/.
-->
This script tag will cause the Brightcove Players defined above it to be created as soon
as the line is read by the browser. If you wish to have the player instantiated only after
the rest of the HTML is processed and the page load is complete, remove the line.
-->