NEWS
VIDEO: Peter Facinelli Answers Fans' Pressing 'Twilight' Questions!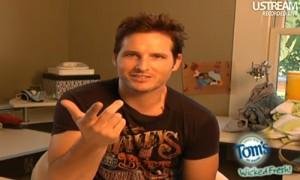 Twilight hunk Peter Facinelli took some time to connect with fans, answering tons of pressing questions about the beloved vampire series! Everyone's favorite fatherly vamp chatted about topics ranging from co-stars Robert Pattinson and Kristen Stewart open mic nights with the Twilight cast, during a 17.5-hour autograph session.Peter helped kick off Wicked Fresh! Wednesdays Chat Series last night as part of the launch of Tom's of Maine's new Wicked Fresh! Toothpaste and Mouthwash line.
Article continues below advertisement
He opened up about being energized by passionate fans!
"I love meeting the fans. They are so energetic and so fun," he shared. "I can be really tired when I show up to an event an the minute I get next to fans their energy is infectious. All of a sudden I get fed by that energy."
OK! NEWS: PETER FACINELLI PROUD TO BE NAMED THE NO. 1 WORST VAMPIRE
Peter loves fans so much, that he endured a 17 1/2 hour autograph session at an army base in support of American Troops!
"It's got to be the longest autograph singing in a the history of actors. It was supposed to be a three hour signing, but fans had been lining up since midnight. I didn't want to go home without giving everyone in line an autograph. I did a 17 1/2 hour autograph signing with only three bathroom breaks...didn't even eat. That goes back to the energy of the people."
Article continues below advertisement
Speaking of marathon autograph signings, Peter chatted with fans for over an hour during the live UStream interview.
Some highlights:
13:20: Peter explains why he's Team Edward — "I'm teen Edward because he's my son and I like to keep in the family."
14:05: Peter talks about working with Rob.
16:23: Peter talks about the filming of Twilight and their open-mic nights — "We were able to go out all the time and just hang out and nobody would ask questions or bother us. I remember going to open mic nights where Rob Pattinson would play the guitar, and it would be him playing and three or four to the cast members would show up and it would be like 'Hey, he's pretty good.' But no one new when the movie came out we wouldn't be able to do that again."
40:18: Peter says he'd like to play Edward.
59:00: Talks about pranks and mentions prank from New Moon filming (involving Rob and Kristen).