NEWS
VIDEO: Sandra Bullock's Heartfelt Thank-Yous to Her Husband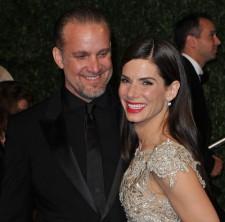 As more reports come out about Sandra Bullock's husband Jesse James' alleged infidelity, we can't help but remember the beautiful thank-yous Sandra gave Jesse during her Oscar acceptance speech. If you're like us, you can't stop replaying it in your mind, so we've put together a few videos of Sandra thanking her husband during her big Blind Side year. Warning: You may need to grab some tissues.
OK! EXCLUSIVE: SOURCE SAYS SANDRA BULLOCK IS LEAVING HER HUSBAND
Article continues below advertisement
Sandra's big year began with her acceptance speech at the Golden Globes, when she tearfully said, "I never knew what it felt like for someone to have my back, so thank you."
OK! NEWS: NO BLIND SIDE LONDON PREMIERE FOR SANDRA BULLOCK
During her acceptance speech at the SAG Awards, Sandra told Jesse, "I love you so much. And you're really hot. And I want you so much."
Sandra explains to Barbara Walters how she and Jesse really are not so different: "The end result in life that we both want is the same."
OK! NEWS REPORT: JESSE JAMES' MISTRESS WASN'T SECRETIVE ABOUT AFFAIR
At her Oscar acceptance speech, Sandra thanked her mother, "Helga B.," for teaching her that "we're all deserving of love" and then said it allowed her to have "that" (referring to Jesse).