NEWS
VIDEO: Were Taylor Lautner & Kristen Stewart Flirting at People's Choice Awards?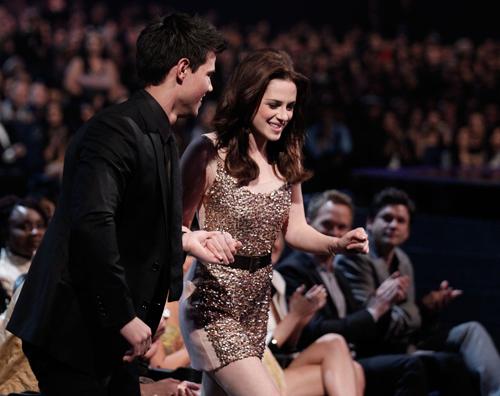 On camera at the People's Choice Awards 2011 it looked like Taylor Lautner and Kristen Stewart were quite flirty with each other. But don't worry Twi-hards, there may be more than meets the eye.
OK! GALLERY: TWILIGHT THREESOME TAKE OVER AS PEOPLE'S CHOICE AWARDS WINNERS
Some Twilight fans, according to E! News, are concerned about Robert Pattinson and Kristen's relationship after watching last night's show since the couple seemed "distant."
Article continues below advertisement
But according to E! News, the stress of arriving late straight from Baton Rouge is to blame and the couple was affectionate when the cameras weren't watching!
"They were laughing and smiling together once they got a second to relax," a source inside the show said. "Kristen would lean into Rob and they would talk when they could."
OK! NEWS: PEOPLE'S CHOICE AWARDS 2011 WINNERS — TWILIGHT REIGNS VICTORIOUS
Still, it was hard to ignore just how close Kristen and her good friend Taylor were during the show, Fame Crawler reports.
See some examples in the gallery below!
It started when Taylor was the one who helped Kristen walk to the stage to accept the award for Favorite Movie Actress.
Then, while the Twilight threesome was accepting the award for Favorite Movie, it was Taylor who helped Kristen fix her dress when a strap slipped!
Kristen and Rob are never very open about their relationship, so we weren't surprised by last night and it's nice Kristen also has Taylor to help with the stress of award shows!
But what was your take on Taylor and Kristen's interaction last night?