NEWS
VIDEO: Wyclef Jean Slams Sean Penn via Song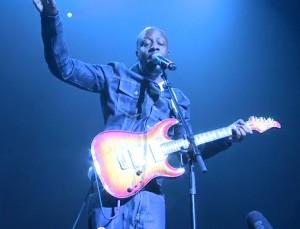 Wyclef Jean is getting back to his music now that his Haitian presidential campaign is over, but that doesn't mean he's done slamming Sean Penn!
OK! GALLERY: SEAN PENN STYLES GUY-LINER, LIPSTICK & EARRINGS ON SET, SERIOUSLY
While Wyclef was performing at a Hot 97 concert over the weekend, he decided to change some lyrics to his 2004 song "President" in honor of Sean.
"I got a message for Sean Penn: Maybe he ain't see me in Haiti because he was too busy sniffing cocaine," he said.
Article continues below advertisement
Sean spoke out against Wyclef after he announced his plans to run for presidency in Haiti.
"I have to say I'm very suspicious of it, simply because he, as an ambassador at large, has been virtually silent," Sean said during a Larry King Live broadcast. "For those of us in Haiti, he has been a non-presence."
And Wyclef also decided to attack his former Fugees bandmate, Pras, in the same song because he also spoke out on Wyclef's presidential campaign.
OK! NEWS: SEAN PENN SLAMS WYCLEF JEAN FOR HAITI PRESIDENT
"I love Wyclef to death. I was one of his best men along with his brother at his wedding," he told Vulture. "But I want to make this clear: I would rather lose Wyclef as a friend, brother, and save a nation of 10 million Haitians."
To that, Wyclef said this weekend, "I got a message for Praswell: Even though you don't want to support me, I got love for you, even though you only kicked 8 bars in the Fugees."
Article continues below advertisement
So far, a rep for Sean has already responded to Wyclef's "cocaine use" comments.
Sean's rep quickly wrote a vehement denial of cocaine use, telling JustJared:
"Mr. Jean is clearly unfamiliar with the physical demands put upon volunteers in Haiti. As aid workers there, the notion of depleting the body's immune system thru the use of illicit drugs is ludicrous," Sean's rep told Just Jared. "More specifically, J/P Haitian Relief Organization (a.k.a. JPHRO) has a ZERO tolerance policy for any and all illegal drugs. As the leader of this organization, Sean Penn has not only set this policy, but adheres to it. That Mr. Jean would make such a false accusation is reckless and saddening, but not surprising."
Watch Wyclef's performance below!