NEWS
Viral Foodie Star Hannah Hart On Her Rise To Fame & Food Obsession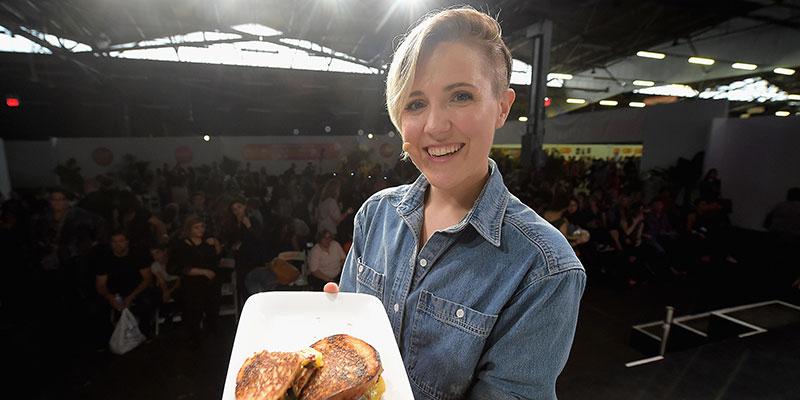 Hannah Hart has definitely developed herself into something quite big in the digital realm.
The YouTube personality, author, comedian and actress recently sat down with OK! exclusively to discuss her meteoric rise over the past decade as well as her major obsession with all things food.
One foodie-related thing that Hannah is excited to do right now is her partnership with Lays, in particular their "Tastes of America" flavors.
Article continues below advertisement
It's inspired by the legendary potato chip brand's efforts to highlight local cuisine from all across the country in eight new flavors: Cajun Spice, Chili con Queso, Chesapeake Crab Bay Spice, Deep Dish Pizza, Fried Pickles with Ranch, New England Lobster Roll, Pimento Cheese and Sweet Thai Chili. Yum! The new bags will be available in supermarkets between July 30th and August 23rd, but will only be available in the region where the flavor was inspired by.
Outside of that, Hannah also revealed her secret to amassing 2.5 million followers on YouTube. "I would say that I was lucky enough to get my start back in 2011, so the internet space was more pure. It was nice because it was a creative play space that didn't have any gatekeepers and allowed people who maybe weren't part of mainstream media to create content."
"As someone who is a queer person, here I could go and make a cooking show and didn't have to center around the fact that I was gay," she continued. "Whereas a lot of time, with the gatekeeping of mainstream media back then, you had to be whatever your niche is. But now, I'm lucky enough to just be me."
Hannah also chatted about her exciting podcast HANNAHLYZE THIS and how she "doesn't believe" in running.
Watch the clip above! Are you a big fan of Hannah Hart? Sound off in the comments!