NEWS
'The Voice' Recap: Cee Lo Green Cries Multiple Times During Final Battle Rounds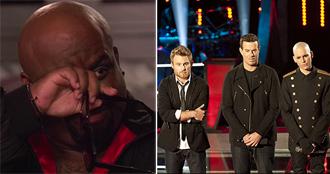 The teams have been set on The Voice, now that the final battle rounds have come to an end. But it wasn't easy for the mentors to make their last few picks, especially for Cee Lo Green, who cried not once, not twice, but three times last night as he took in the performances.
OK! NEWS: SIMON COWELL PUSHES FOR '"SUPER BOWL" WITH X FACTOR, THE VOICE & AMERICAN IDOL WINNERS!
First to take to the stage were Cee Lo's artists, James Massone and Wade, who sang Cyndi Lauper's "True Colors." Not only did Cee Lo admit that this is one of his favorite songs of all time, but he broke down in tears during rehearsals, saying, "That song made me cry, man. I'm proud of you all," he stumbled. "Wow, dude. Okay, man. Okay, I surrender."
Article continues below advertisement
When it came to the actual performance in front of all four mentors, which include Christina Aguilera, Adam Levine and Blake Shelton, James and Wade didn't do their best, but James ended up taking it, after making Cee Lo cry... again.
Next up, Mathai faced off against singer/songwriter/pianist Nicolle Galyon for a spot on Adam's team. The girls sang Sara Bareilles' "Love Song," but with her unique style and charisma, Mathai beat out the competition and Nicole was sent home.
Next to take the stage was Christina's team. She paired Hip-Hop emcee Moses Stone with country duo The Line to sing a very different version of The Rolling Stones' "Satisfaction." Personally, we think The Line sounded better vocally, but Moses' energy and entertaining spirit won him the final spot on Christina's roster.
Adam brought another pair to the stage to battle it out for the last position on his team, choosing Nashville stunner Karla Davis and soulful blues man Orlando Napier to sing "Easy." Both of these artists have incredible voices, but the performance was a little lackluster. Karla ended up winning and earned her a spot in the live shows.
Article continues below advertisement
For the final performance of the evening, two of the best artists in the competition, Broadway star Tony Vincent and Last Call with Carson Daly's rocker Justin Hopkins, battled it out to take that last spot on Cee Lo's team. They not only brought their mentor to tears during rehearsals with their stirring rendition of "Faithfully," but they made him emotional again after they performed in front of all the mentors. Both these guys are truly senstational.
Article continues below advertisement
"I'm just in awe of you," Cee Lo told both men, before facing the "hardest decision" he's had to make all season. Tony ended up winning and Justin was sent packing, something Tony took very hard, considering they were both fighting for their families.
So the teams are:
TEAM ADAM
Karla Davis
Katrina Parker
Tony Lucca
Pip
Mathai
Kim Yarbrough
TEAM CHRISTINA
Moses Stone
Ashley De La Rosa
Chris Mann
Jesse Campbell