NEWS
Watch Anderson Cooper Get a Case of the Giggles Over Gerard Depardieu Joke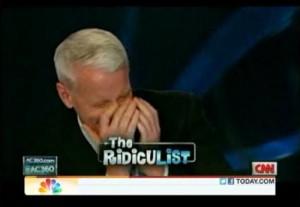 Anderson Cooper got a bad case of the giggles on air last night on Anderson Cooper 360° when he was attempting to explain why Gerard Depardieu has been added to his "Ridiculist."
OK! NEWS: GERARD DEPARDIEU RELIEVES HIMSELF IN FRONT OF AIRPLANE PASSENGERS
Natalie Morales could sympathize with Anderson this morning on the Today show claiming she's famous for getting a case of the giggles on air.
Anderson cracked up at his own joke last night while making fun of Gerard's headline news that he relieved himself on an airplane in front of passengers.
Article continues below advertisement
Gerard reportedly couldn't wait 15 minutes for the flight to take off to use the bathroom, so he unzipped his pants and urinated on the carpet!
OK! NEWS: WATCH ANDERSON COOPER PUT COURTNEY STODDEN & DOUG HUTCHISON CRITICS ON HIS "RIDICULIST"
So which joke about Gerard had Anderson completely lose it?
"After Gerard took his little solo flight to urination, the plane had to turn around and go back to the gate and some unlucky cleaning crew had to deal with the Golden Globe winning tinkle. Now, all I can say is they should thank their lucky stars it wasn't 'Depar-two'."