NEWS
Watch Ann Curry Chase After Nadya Suleman's Octuplets on 'Today' Show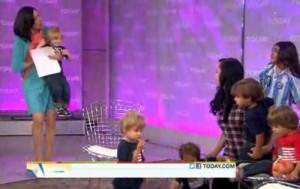 Chaos erupted on the Today show this morning when Nadya "Octomom" Suleman and her octuplets made their first live TV debut. Poor Ann Curry had to try and interview Nadya while simultaneously chasing after her children in the studio!
OK! NEWS OCTOMOM JOINS DATING SHOW & ADMITS IT'S DIFFICULT TO "INTERACT AND TO HAVE EYE CONTACT"
The mother of 14 children brought her famous octuplets, now 2 1/2 years old, and two more of her children onto the Today show to set the record straight on some of the misconceptions about her life.
Article continues below advertisement
According to Today, it reportedly costs Nadya $15,000 a month to support her children, but she claims she has never used public assistance.
"I've never in my life been on (public assistance), and I never would,'' she said. "I would feel like a failure as a mother and as a human being.''
Instead, Nadya says she has professional management now and has been able to make money with appearances, celebrity boxing matches and being a personal trainer.
OK! NEWS: OCTOMOM'S DOCTOR TO HAVE HIS MEDICAL LICENSE OFFICIALLY REVOKED
But it can't be easy to be a mother of 14! The kids arrived to the studio after having only had two hours sleep while traveling to New York from California, but still seemed to have a lot of energy. One took over Matt Lauer's spot at the anchor desk and was being watched by Natalie Morales while Ann chased another around the studio.