NEWS
Watch Bentley Kiss Ashley Hebert on 'The Bachelorette': "Wow, That Was Kind of Boring"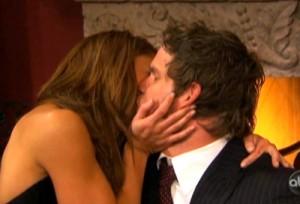 Bentley Williams continued to badmouth Ashley Hebert on last night's episode of The Bachelorette. But he still remains a frontrunner as Ashley continues to fall victim to his beguiling and competitive tactics. We saw Bentley's competitive side last night and it looks like things are headed to a very dramatic end.
Bentley already had received the rose on a group date after fooling Ashley, but he still wanted to solidify his place in the competition with a kiss at the cocktail party.
Article continues below advertisement
OK! NEWS: BACHELORETTE RECAP — BENTLEY WOULD RATHER "SWIM IN PEE" THAN MARRY ASHLEY HEBERT
"Actions speak louder than words — I'm a fan of that," he explained to the camera before he found Ashley and swept her off her feet. "Do I need to force this kiss? Do I need to ram my tongue down her throat?"
He then carries her to the fireplace, and Ashley is completely smitten.
"There is something very romantic about the way he brought me down to the fireplace," Ashley shared.
Bentley wanted to get right down to it — "You tired of talking? Let's not talk."
They share an intimate smooch, but Bentley is still not even close to sold on the idea of dating Ashley.
"Wow that was kind of boring," he said. "It started out good, but it sucked toward the end. I'd be lying to everyone if I was like 'I'm in this to the end. I'm gonna ride this out for two months.' There is no way I'm gonna last that long."
Ashley's concerns about Bentley seem to be dissipating.
"I've seen such sincerity in him that my gut tells me to trust him," she said after their kiss. "I could be completely wrong, but in my heart I feel something really strong for him. He would be the one for me."
Watch the kiss and Bentley badmouth Ashley below.