NEWS
Watch Beyoncé Bring It in 'Love On Top' Music Video!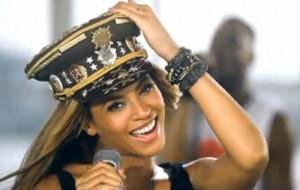 Beyoncé debuted the full video for her latest hit "Love on Top" and it's certainly a Queen B production. From the hot leotards to the great dance moves and powerhouse vocals, the Grammy-winner has proven herself victorious once again.
Beyoncé debuted "Love On Top" during her exciting performance at the 2011 MTV VMAs, where she also revealed her big pregnancy bombshell!
During her performance, she told the room, "Tonight I want you to stand up on your feet. I want you to feel the love that's growing inside of me."
Article continues below advertisement
OK! NEWS: BEYONCE'S BABY DUE IN FEBRUARY — "I'M SO HAPPY"
The music video looks to be a variation of her VMA performance, where the powerhouse vocalist takes the lead with a string of backup singers.
The clip takes place in a warehouse and B dons a black leotard, fishnets, boots and a bedazzled conductor hat!
The mom-to-be covers the November issue of Harper's Bazaar and opens up on why it's the perfect time to enter into parenthood with hubby Jay-Z.