NEWS
Watch Brawl Break Out on 'Mob Wives' Premiere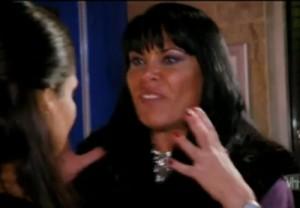 VH1 has just entered the same arena as Bravo and MTV when it comes to reality TV programming. The network debuted Mob Wives last night — a cross between the hit Real Housewives franchise and our favorite gang of guidos and guidettes on Jersey Shore.
Last night we met Karen Gravano, daughter to mobster Salvatore "Sammy the Bull," who has live in Arizona for 10 years, after her dad snitched on some fellow mobsters.
Article continues below advertisement
Karen is now back in New York, and fellow mob maven Renee Graziano, daughter of high-ranking member of La Cosa Nostra, isn't happy.
"What your father did was beep wrong, and it destroyed a lot of families," Renee instigated, calling Karen's father a "rat"
And Karen fights back.
"You don't have a problem with the fact that my father was a gangster and possibly put a gun to someone's head and shot him in the back of the head? That whole lifestyle doesn't destroy families?"