NEWS
Watch Christoph Waltz Murder Stefano Langone In 'Jimmy Kimmel Live!' Skit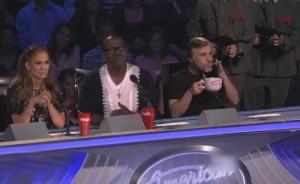 Christoph Waltz has really perfected playing a villain. From Inglourious Basterds to Water for Elephants, now Christoph is bringing the heat to the American Idol stage.
OK! VIDEO: WATCH STEFANO LANGONE'S JOURNEY ON AMERICAN IDOL
If Christoph had his way last night on Idol, he would have eliminated Stefano Langone — for good!
Last night on Jimmy Kimmel Live!, Christoph starred in a new sketch as as an American Idol judge who wasn't afraid to actually give some criticism.
Article continues below advertisement
"Stefano, you were terrible. You were naive, you were unlistenable," Christoph says. "You were actually abhorrent. You failed. And therefore, you leave me no choice but to sentence you to death by firing squad."
Christoph then criticized judges Randy Jackson, Jennifer Lopez and Steven Tyler.
"When someone is terrible, you don't inflate a malfunctioning ego. You don't shower undeserved praise on the lobotomized squeakbox," he explained. "No, you eliminate him. Permanently."