NEWS
Watch Stefano Langone's Journey on 'American Idol'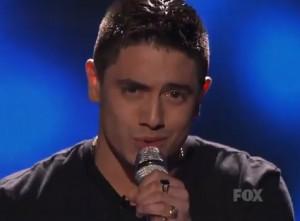 On last night's results show of American Idol it came down to Stefano Langone and Jacob Lusk, but it was wild-card winner Stefano who was sent packing. As upset as Stefano may have been over the results, fellow contestant James Durbin looked like he was going to cry!
OK! NEWS: AMERICAN IDOL BLOG — THE TOP 7 RESULTS!
James held his head in his hands when the results were announced that Stefano was going home. They must have become pretty good friends throughout their time on American Idol!
Article continues below advertisement
But Jennifer Lopez was also very sad to see Stefano go.
"Stefano, our wild card, look how far you've come," Jennifer said. "It's amazing. It's not the end of the road."
OK! NEWS: AMERICAN IDOL BLOG — THE TOP 7 PERFORM!
Stefano kept his head held high and sang his final song on the American Idol stage, "Lately."
"It American Idol started my career," Stefano said. "You can't put a price on that. I'm so blessed. I came this far and it's great."
What was your favorite Stefano performance?
Watch highlights of Stefano's journey on American Idol below!
Stefano Langone Interview
"If You Don't Know Me By Now"
"When a Man Loves a Woman"
"Closer"
Stefano's final performance of "Lately" on American Idol