NEWS
Watch Courtney Alexis Stodden's Message to Cyberbullies & Their Victims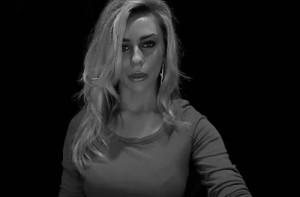 Six months ago, before news hit the Web about her marriage to 51-year-old actor Doug Hutchison, 16-year-old Courtney Alexis Stodden, an aspiring singer, posted a YouTube message speaking out against "cyberbullies and cyber victims" and shared some of the negative comments she has received.
OK! NEWS: COURTNEY ALEXIS STODDEN'S MOTHER "SUPPORTIVE" OF 16 -YEAR-OLD'S MARRIAGE TO DOUG HUTCHISON, 51
"Hi. I'm Courtney Stodden and I'm here to talk to you about public bullying and cyberbullying, which actually is a huge problem in the world today," she says in her previously posted YouTube video. "I'm an upcoming recording actress. I'm a model, an aspiring actress." (Although here it kind of sounds like she says "inspiring" actress.) "I'm a dancer, TV-show hostess — I've hosted by own TV show called The Courtney Stodden Show. I'm very career oriented. Along with being in the public eye comes a lot of criticism, hatred and jealousy."
Article continues below advertisement
" 'I accidentally rubbed shoulders with this person in a store a couple of days ago and I was not impressed with her lack of humility,' " Courtney reads from one commenter. "'What an ego-driven, vain person she is, by the way she carries herself among others. You wouldn't believe what I encountered. Most important to her is her looks. If she perhaps didn't have those fake t**s, maybe she would be a little more approachable. Any sane person can see that they are the most important thing to her. I'm sure they are fun though.' "
Article continues below advertisement
In response to this one, Courtney announced to the camera: "Um, my breasts are real. Everything about me is real. My hair is real. My teeth are real. My eyelashes are real. My breasts are totally real, believe it or not. They are."
Unfortunately, now that news of 16-year-old Courtney's marriage to 51-year-old actor Doug has hit the Web, we have a feeling she'll only be seeing more of those negative comments.