NEWS
Judge Agrees: Lindsay Lohan Will Stay in Rehab Until 2011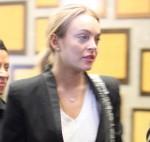 No more jail for Lindsay Lohan — as long as she does what she's told this time and stays in rehab! Lilo's lawyer Shawn Champan Holley argued that the starlet is committed to rehab, and Judge Elden Fox agreed, ruling that she will remain at Betty Ford Center until Jan. 3, 2011. She will then return to court Feb. 25.
OK! GALLERY: LINDSAY LOHAN ARRIVES IN COURT IN BEVERLY HILLS
District Attorney Danette Meyers wanted Lindsay to serve 180 days in jail, minus the 13 she already had under her belt, because of Lindsay numerous stints in rehab failing before. Meyers wanted her to do a hard 180 days minus the 13 she already served. But as long as Lindsay stays in rehab and works hard, attends AA meetings, meets with a psychiatrist once a week and passes all of her drug tests, she won't go to prison. If she tests positive at any time, it's the slammer, no matter what. Overcrowding will not save her this time, in other words.
Article continues below advertisement
OK! NEWS: LINDSAY LOHAN IS WORKING "VERY HARD" IN REHAB
According to witnesses in the court room, Lindsay began to cry with relief when she realized she wouldn't be going to jail again.
"Relapse is a part of recovery," Lindsay's lawyer Chapman Holley argued. "She shouldn't be punished. Betty Ford is hard core and she's in there and remains committed."
Judge Fox weighed in, warning Lindsay that he's taking everything very seriously. "I'm new to this rodeo. All the people that are following and broadcasting this case realize there is nothing better than a train wreck for a celebrity. I'm not going to have it in my court."
OK! POLL: WHO'S MORE TO BLAME FOR LINDSAY LOHAN'S PROBLEMS?
He added: "This court is not going to be manipulated. If you are serious about your life, your sobriety and your career, you'll admit you're an addict. I hope you realize that. You will become unemployable, un-insurable and you'll be forgotten. I'm serious about that. You'll have to stay through Betty Ford past the New Years and there's a reason for that."
Lindsay had two benefactors from out of state who were sitting behind Dina Lohan, and appear to be footing the bill for bail and other expenses.
Michael Lohan was there and sat by himself in the back of the court and just kept watching her and watching Dina. He didn't approach or say
anything but never took his eyes of Lindsay. Looked to be hoping to get her eye contact so she would acknowledge him but she never did.