NEWS
Watch the Full Trailer for 'The Bling Ring.' What's Your Favorite Crazy Line?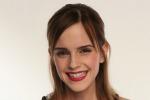 This summer promises lots of blockbuster movies—plenty of explosions, car chases, and people sprouting claws through their hands. But that's not my style. For me, it's all about Emma Watson with a flat Los Angeles accent.
Watch: The new trailer for The Great Gatsby!
Finally, the full trailer for The Bling Ring is now out! We get to see a bit more plot, more context, more social commentary, and lots more bad-girl music (what up, Azealia Banks!). I usually have high hopes for Sofia Coppola movies, then find them a bit snoozy, however beautiful and sad they may be. But this one looks so sexy and fun!
Article continues below advertisement
"Girls, time for your Adderall!" and "I wanna rob" and "I want to lead a country one day, for all I know." Genius!
What do you think of the trailer? Is Emma Watson nailing the LA accent? Do you think you'll see the movie? Tell us in the comments below or tweet us @OKMagazine.