NEWS
Watch Glee's 'Funeral' Performances Featuring "A Little Tenderness"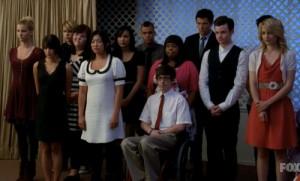 Last night's "Funeral" episode of Glee was serious, sad and seriously sad. We got a little uncomfortable watching Sue Sylvester (Jane Lynch) cry and could have used a bit more comic relief from Brittany (Heather Morris), but at least there was some singing!
OK! VIDEO: WATCH GLEE'S "PROM QUEEN" PERFORMANCES FEATURING REBECCA BLACK'S "FRIDAY"
Although, they weren't exactly upbeat songs.
There seemed to be more acting than there was singing in last night's Glee, which made the show seem very different from previous episodes.
Article continues below advertisement
Sue's sister, Jean, passed away and while the Glee club was competing with each other for a spot to sing at Nationals, they also helped plan the funeral for Jean.
In auditions, Santana (Naya Rivera) tackled Amy Winehouse's "Back to Black," Kurt (Chris Colfer) sang "Some People" from Gypsy, Mercedes (Amber Riley) sang Otis Redding's "Try a Little Tenderness" and Rachel (Lea Michele) took on "My Man" from Funny Girl.
"SOME PEOPLE"
"TRY A LITTLE TENDERNESS"
"MY MAN"
"PURE IMAGINATION"