NEWS
Watch Glee's "New York" Season Finale Performances!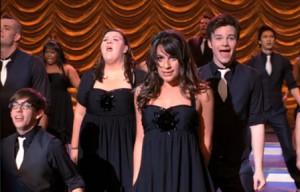 Finally, Glee had the performances we love to watch over and over again. It's just too bad it happened on the "New York" season finale! Since New Directions were in NYC, they turned their performances up a notch in honor of Broadway.
OK! VIDEO: WATCH GLEE FINALE SNEAK PEEK OF "I LOVE NEW YORK PERFORMANCE"
Following Glee's previous somber "Funeral" episode, "New York" felt very magical! Even Brittany (Heather Morris) and Artie's (Kevin McHale) song about a cup was exciting.
Article continues below advertisement
The mix of "I Love New York" and "New York, New York" was already a hit before the show even aired, but we loved watching the whole Glee cast sing and dance throughout Manhattan!
While we really enjoyed the original songs — "Pretending" and "Light Up the World" — New Directions performed at Nationals, we thought the performance of the night was Rachel (Lea Michele) and Kurt (Chris Colfer) singing "For Good" from Wicked.
However, the boys singing "Bella Notte" was adorable!
What was your favorite performance from the season finale?
Watch them all below (via Hulu) and decide!
OK! VIDEO: WATCH GLEE'S FUNERAL PERFORMANCES FEATURING "TRY A LITTLE TENDERNESS"
"My Cup"
"I Love New York"
"Still Got Tonight"
"Bella Notte"
"For Good"
"As Long as You're There"
"Pretending"
"Light Up the World"