NEWS
Watch The Hilarious Teaser Trailer For "The Lego Movie"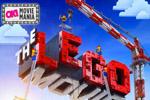 The Lego Movie teaser trailer is here—and it's spectacular. Set to Pitbull's "Feel This Moment" and featuring some of the greatest voices in Hollywood right now (Including but not limited to: Morgan Freeman, Chris Pratt, Will Ferrell and Elizabeth Banks) the movie promises to be one of the more star-studded adventures in recent memory. Think about it— when was the last time you saw Superman, Spiderman, Wonder Woman, Michaelangelo and the 2002 NBA All-Stars in a room together? Exactly my point. And oh, yea... IT'S ALL LEGOS.
Article continues below advertisement
What do you think? Are you as excited as we are? Share in the comments below or tweet us @OKMagazine.