NEWS
Watch James Durbin March Onto 'American Idol' Stage Singing Muse's "Uprising"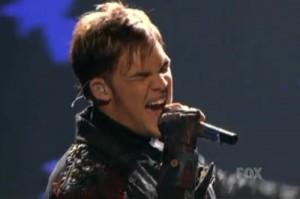 James Durbin made a grand entrance last night on American Idol singing Muse's "Uprising" with a marching band in tow. For the "Music of the 21st Century" theme this week, James really went all out and the judges called it the "best performance of the night!"
OK! NEWS: AMERICAN IDOL BLOG — THE TOP 7 PERFORM!
"I'm going to go out on a limb here and say that that is going to be theatrically the best performance of the night. And you're only number two!" Jennifer Lopez said. "That was really amazing. I think that was the highest we have ever heard you sing or anyone on the show!"
Article continues below advertisement
Randy Jackson added, "Yo, listen man I'm telling you something Muse is one of my favorite bands. That song 'Uprising' is amazing. I hope you follow this direction when you make a record after this and throw in some more of your metal thing into there, but it makes you a whole different kind of an artist. Dude, you were unbelievable up there. The whole thing with the drums. I am going to go out on a limb with Jennifer and I'm going to say I think this is going to be the best performance of the night."
Randy even explained how James was challenged by Muse singer, Matt Bellamy, to sing the last chorus up an octave and as Randy said, "He slayed it!"
"You stay out of my closet now," Steven Tyler said. "You'd be surprised how expensive it is to look this cheap. That was crazy good man, you took it up again. It sounds like you're going in a T.Rex direction and I love that about you. I just love that you are out of your mind, beautifully so."