NEWS
Watch Jimmy Fallon Promise Stephen Colbert Will Perform Rebecca Black's "Friday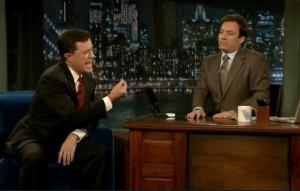 Today is Tuesday, tomorrow is Wednesday, then it's Thursday and after that is Friday, the day Jimmy Fallon needs raise $26,000 from fans to get Stephen Colbert to sing Rebecca Black's "Friday" on his show!
OK! VIDEO: WATCH JIMMY FALLON & STEPHEN COLBERT DUKE IT OUT OVER ICE CREAM
It was started when Jimmy's BFFSM (Best Friend For Six Months) Stephen, announced his show that Jimmy was matching a $26,000 donation to DonorsChoose.org.  Unfortunately, Jimmy never said he'd do that, so Stephen came on Late Night With Jimmy Fallon to confront him.
Article continues below advertisement
"If you can't donate $26,000 of your best friend's money without asking him first, then what's the point of being Best Friends?" Stephen asked (via Entertainment Weekly). "I give, I give, and I give … your money … to other people. And I get nothing back."
So Jimmy came up with a solution.
"If we can raise $26,000 by this Friday, I will promise that my BFF for Six Months, Stephen Colbert, will come on this show and sing Rebecca Black's 'Friday' with The Roots," Jimmy said. "And that is a promise that I am making … from him … to you."
The clock's ticking, FalPals/Fallon's FunBags. Visit DonorsChoose.org to donate!
Watch the clip below!