NEWS
Watch Jimmy Fallon & Stephen Colbert Duke It Out Over Ice Cream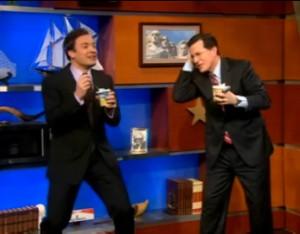 When the spoons start flying, just look to late-night hosts Stephen Colbert and Jimmy Fallon for the cause of the ice cream fight! After Jimmy was awarded his own flavor of Ben & Jerry's, "Late Night Snack," Stephen got jealous that his "Americone Dream" had a late night competitor.
"When you're on top like I am, you're always a target," Stephen said on The Colbert Report, telling the audience he was none too happy that Jimmy had joined the ranks of comedians with tasty treats named after them. Of course, Jimmy himself showed up to defend himself and his flavor, and the insults started to fly.
Article continues below advertisement
"Your ice cream is pretty good... for 12:30!" yelled Stephen, to which Jimmy replied, "And you're ice cream is pretty good too... as a palate cleanser for Tosh.0!"
OK! NEWS: FORGE JIMMY FALLON & CHARLIE SHEEN — BRING ON THE BEN & JERRY'S ICE CREAM!
It gets even better!
Stephen: "Your ice ream is like a Jimmy Fallon SNL skit: Halfway through, you break down laughing and can't finish."
Jimmy: "Your ice cream is like your cameo in Bewitched. I don't have an insult, i just wanted to remind people you were in Bewitched."