NEWS
Watch Jimmy Kimmel's Hilarious Trailer for 'Movie: The Movie' Featuring Over 30 Celebrities!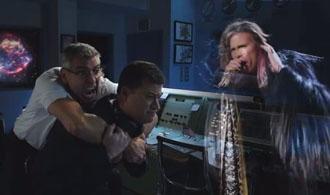 If you thought you saw it all on Oscar night, you were wrong! Late night host Jimmy Kimmel celebrated the Academy Awards with a special, featuring this trailer for the upcoming flick, Movie: The Movie, featuring stars like Ryan Phillippe, Jessica Alba, Taylor Lautner, Colin Farrell, Edward Norton, Matt Damon, George Clooney, Charlize Theron, Meryl Streep, Helen Mirren, John Krasinski, Emily Blunt, Jessica Biel, Jason Bateman, Kate Beckinsale, Christoph Waltz, Cameron Diaz and many, many more!
Article continues below advertisement
OK! GALLERY: ALL THE STARS STEP OUT FOR THE VANITY FAIR OSCARS PARTY
Alright, so the movie obviously isn't real, but if it was, it would be epic!
Jimmy and his crew created the ultimate movie pitch, which they describe as "a romantically comic political action thriller drama based on the novel Push by Sapphire."
There's not much else we can say about this short film, aside from the fact that it shows George Clooney in a wheelchair, Kate Beckinsale in bed and Matt Damon in a Fruit of the Loom Grape suit. (Yup, that's right.)
OK! NEWS: JIMMY KIMMEL MOCKS THE 2012 OSCARS!
Oh, and Gary Oldman's a Centaur, Kevin James is a super-powered baby, John Krazinski's a blind man, Tom Hanks is a killer robot and Gabourey Sidibe is a meteor heading straight for Earth.
And did we mention Steven Tyler sings the title track off the soundtrack?
Watch the trailer and let us know what you think!