NEWS
Watch Jordin Sparks & Her Slimmer Figure Perform on 'American Idol'!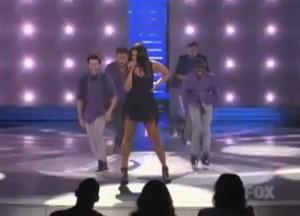 Last night, Jordin Sparks returned to the place where all her dreams came true — the American Idol stage! The season six winner performed on last night's live results show with her new hit "I Am Woman" and showed of her new, slimmer figure!
Jordin was 17 years old when she was crowned the American Idol — the youngest ever winner on the show to date.
Article continues below advertisement
Now, at 21 years old, she made her mark on the Idol stage as an adult!
And she sure showed off a different side! Jordin whipped out some seductive dance moves and did a little strip tease out of a silver coat, showing her confidence and demanding the audience's attention.
She even sneaked a quick kiss with Steven Tyler during her performance!
"Feels so good to have my makeup off and climb into bed. Exhausted. Thanks 4 tuning in tonight! I cant do it w/o you! Goodnight twittlets. <3" Jordin Tweeted after last night's high-energy gig!