NEWS
Watch Justin Bieber & Taylor Swift Dance to Selena Gomez's Teen Choice Performance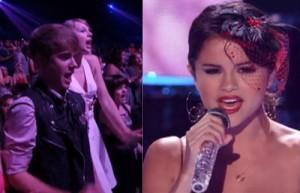 Article continues below advertisement
In the clip, Ashton got the audience to sing "Teenage Dream" with him and is mocked afterwards by Ellen DeGeneres who considers singing "Stairway to Heaven."
Zachary Levi and Kaley Cuoco compete in a ping-pong competition and Christopher Mintz-Plasse confesses to Tom Felton that he had a fling with Cameron Diaz.
But the best part of the night was watching Justin and Taylor rock out together to Selena's performance of "Love You Like a Love Song." Justin has some impressive moves!