NEWS
Watch Kermit & Jason Segel Beg Amy Adams to Join 'The Muppets'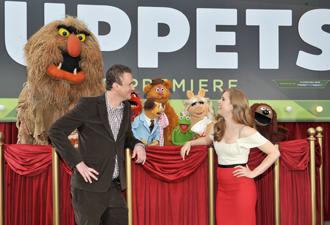 Earlier this year, Amy Adams revealed that Jason Segel had sent her a DVD of himself and Kermit the Frog personally inviting the actress to join the cast of The Muppets.
Now, four months, later the video has finally hit the web!
OK! GALLERY: AMY ADAMS SAYS PICKING A FAVORITE MUPPET WOULD BE LIKE "PICKING A FAVORITE CHILD"
The video starts with Jason, apparently unaware of the camera, serenading Kermit about Amy — an activity which seems to have been going on for some time.
Article continues below advertisement
Apparently, this unconventional casting tactic worked! Amy admitted over the summer, "Once Kermit asks you to do something, it is really hard to look at him and say, 'No.' So I was hooked!"
To watch the exclusive video on Deadline, click here!