NEWS
Watch Lauren Alaina Tell Jay Leno "No Boyfriend for Me"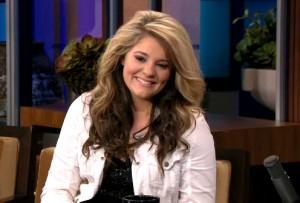 Article continues below advertisement
"No boyfriend for me," Lauren said.
But Jay reminded Lauren that reports are saying Lauren and American Idol winner Scotty are an item. Is it true?
"No," Lauren said.
"Is he cute?" Jay asked.
"I mean he's cute, yes," Lauren agreed. "But I don't know. We're just like really good friends. Everyone wants us to like each other, but we just can't seem to do it."
What do you think? Are Scotty and Lauren an item? Is Lauren now saying they're not because Scotty denied it first?
OK! NEWS: AMERICAN IDOL CONTESTANTS CHAT BEFORE SCOTTY'S BIG WIN!
But that wasn't the only scandalous tidbit Lauren revealed on the show. Jay's other guest on the show was Piers Morgan and Lauren said to him, "Want to hear something funny? I tried out for your show and I didn't make it."
"Really?" Piers asked. "No! America's Got Talent?"
"Twice," she said. "And I got second place and you denied me. I didn't make it past the first round."
"This is a scandal. This now what Americans called 'awkward.' "
Watch Lauren Alaina's interview, below!