NEWS
Watch Lauren Alaina's Finale Performances & 'American Idol' Judges Predict Her Win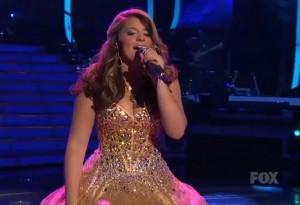 Lauren Alaina seems to be "it" in the judges eyes. Even though a doctor came out on stage to testify that Lauren had blown out one of her vocal chords, the American Idol judges were blown away by her three performances last night on American Idol's finale.
OK! NEWS: AMERICAN IDOL FINALE — CARRIE UNDERWOOD & GEORGE STRAIT PICK SONGS FOR LAUREN & SCOTTY
According to Ryan Seacrest, the American Idol competition has come down to the "boy next door" Scotty McCreery and the "southern belle" Lauren.
Article continues below advertisement
For Alaina's final performance of the night, she sang what will be her first single if she wins, "Like My Mother Does."
The judges fell in love.
"Lauren Alaina has arrived, America!" Randy Jackson said. "That was amazing! Amazing!"
"I think everyone will agree it is a very tough race tonight. But Lauren with that song, you may have just won," Jennifer Lopez said. "That was beautiful. You sang it beautifully. It was perfect for you. It was everything that it needed to be. You sang it just the way you needed to: with heart, emotion, feeling and a beautiful, beautiful voice."
"As far as I'm concerned, the first time I saw you, I thought you were my American Idol," Steven Tyler added. "I think America is going to find that to be true as well. You are 'it' in my eyes."
Did you agree with the judges?
Watch Lauren's finale performance, below!