NEWS
Watch The New Music Video from Emblem3, The Band Who's Opening Up for Selena Gomez This Summer!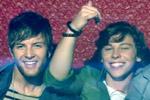 Did you watch The X-Factor last season? If so, you've heard of Emblem3. They were finalists on the show and mentored while there by Simon Cowell, and now, they're baaaasically huge stars.  Because get this: they're the opening act for Selena Gomez's upcoming Stars Dance tour!
Photos: Emblem3 and More Bands Created on TV
If you're iffy about buying tickets for Sel's tour, maybe this will put you over the edge—the guys' new single and music video for "Chloe" is so fun. And so empowering. Watch it above, and then watch it again and again. Now you're dying to see them perform it live on tour, right?
Article continues below advertisement