NEWS
Watch Oprah Winfrey Apologize to James Frey For Not "Hearing His Side"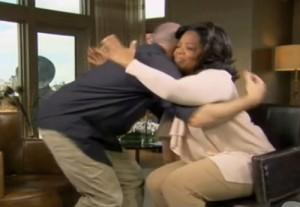 Oprah Winfrey continued her two-part interview with author James Frey yesterday on The Oprah Winfrey Show. Back in 2005, Oprah had the author on her show for his bestselling book A Million Little Pieces, which she made part of her respected book club. Then in 2006, he came back and admitted he made some of it up. Now, Oprah and the author have moved past the deception.
Yesterday, Oprah issued a heartfelt apology to James for being harsh on him after she was attacked for promoting his "memoir" which turned out to be lies.
Article continues below advertisement
"My position and my intention was, 'How dare you. How dare you. How dare you lie to me. How dare you lie to the viewers.' It was not a position of, 'Let me hear your story. Let me hear your side.' And for that, I apologize," Oprah said getting emotional toward the end.
James returned the gesture.
"If anything, I should offer the apology to you," James said. "This mess was my mess, you know? You've done nothing but be really generous and cool with me."
While James may have been apologetic for putting Oprah in a bad situation, he has little respect for the memoir genre.
"I don't have a whole lot of respect for the genre. I think most writers of memoirs, and this is a very unpopular statement, do what I did," he said alluding to the fact that personal anecdotes are fabricated to an extent to make for better storytelling.