NEWS
Watch Rob Lowe & Bradley Cooper "Defame" Sarah Jessica Parker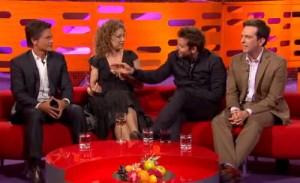 Rob Lowe and Bradley Cooper swapped stories on The Graham Norton Show about Sarah Jessica Parker that were, as Bradley put it, pretty "defaming."
OK! VIDEO: WATCH SARAH JESSICA PARKER IN "I DON'T KNOW HOW SHE DOES IT" MOVIE TRAILER
SJP is not a fan of Rob's new autobiography, Stories I Only Tell My Friends, which shares a few anecdotes about his time dating the star.
"She was p***ed because I got her eye color wrong," Rob told Graham Norton (via the New York Post) on Saturday, when Bradley, Ed Helms and Alex Kingston were also guests on the show. "She was like, 'Look, I can't believe you don't remember my eyes are blue.'"
Article continues below advertisement
"She likes those third parties," Rob chimed in.
"And that was on a date!" Ed joked.
We don't remember Bradley's character kissing SJP in Failure to Launch, so we're assuming he's talking about his brief role as Jake on Sex and the City.
Watch the interview clip, below!