NEWS
Watch Robert Pattinson's MTV Interview Highlights!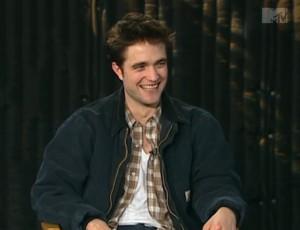 Friday night was jam-packed with Robert Pattinson as the Twilight stars makes a return to the spotlight to promote his new film, Water for Elephants. In case you missed Rob's live interview with MTV, take a look at a few of the highlights!
OK! VIDEO: WATCH ROBERT PATTINSON'S APPEARANCE ON TONIGHT WITH JAY LENO
Rob worked with Kristen Stewart in Twilight, Emilie de Ravin in Remember Me, Reese Witherspoon in Water for Elephants and Uma Thurman in the upcoming Bel Ami.
Article continues below advertisement
"I like hot girls," he joked with MTV. "I like them. I like being in movies with lots of hot girls."
But then he got serious and talked about the leading ladies in his films.
"They're all pretty different," he explained. "They're all very strong, actually. I always end up being in movies with very experienced and passionate people. They're never just flimsy floozies."
Watch the clip below!
OK! VIDEO: WATCH NEW WATER FOR ELEPHANTS CLIP WITH ROBERT PATTINSON & REESE WITHERSPOON!
Currently, Rob is hard at work on the set of The Twilight Saga: Breaking Dawn and isn't allowed to say too much about the film.
But he could share what it's like working with his 9-year-old co-star, Mackenzie Foy, who plays the daughter of Edward and Bella.
"Mackenzie is great," Rob said. "She's really cool. She's really smart."
"She's got a lot of money out of us swearing around her," he added. "I do it by accident, and especially Kristen does it by accident, because she'll apologize with a swear word. She's like, 'Oh sh**! Ugh!' She can't stop doing it for about 15 minutes, and Mackenzie just waits there with her hand out."
Article continues below advertisement
Watch the clip below!
OK! NEWS: ROBERT PATTINSON & KRISTEN STEWART'S RED RIDING HOOD MOVIE DATE
And during his interview, Rob also explained how he and Kristen have a different approach to acting.
"We just have different ways of thinking," he said. "I like the kind of cerebral aspect of things, and she has kind of an immediate emotional response to stuff every single time."
"She can be thrown by something someone says and notices much more about people, whereas I just want to see the meaning of something," Rob explained.
But Kristen is more quick to understand it than Rob.
"She's like, 'Why can't you understand? It's obvious. You don't know, you shouldn't be an actor!' " Rob said with a laugh.
Watch the clip below!