NEWS
Watch Scotty McCreery Add "Flavor" to 'American Idol' With Elvis Presley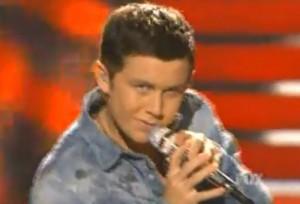 Country boy Scotty McCreery certainly reigned rock night with his high-energy hip-shaking performance of Elvis Presley's "That's Alright Momma," bringing the entire audience to their feet! All the contestants performed songs by Rock and Roll Hall of Fame artists, and Scotty certainly wowed the judges!
Randy Jackson was blown away by the 17-year-old who brought his country twang to an Elvis classic and amped up the entire audience.
Article continues below advertisement
OK!'S AMERICAN IDOL BLOG: THE TOP 9 PREFORM ROCK & ROLL HALL OF FAME SONGS
"Scotty's in it to win it!" The Dawg shouted to the delight of the crowd. "Anybody that thought you were a one-trick pony, that all you did was the country thing? Dude, you can perform. This was amazing dude!"
Jennifer Lopez echoed Randy's excitement.
"Do you watch rap, or hip-hop, or anything like that," she asked him. "Because I feel a little bit of flavor in there!"
Was Scotty your favorite of the night? Watch his performance below, via TV Squad, and share your thoughts in the comments!