NEWS
'American Idol' Blog: The Top 9 Perform Rock and Roll Hall of Fame Songs!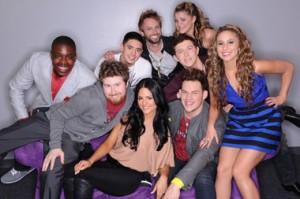 After saying goodbye to both Naima and Thia last week in a crazy double elimination week, American Idol is finally down to the Top 9. This week, they are belting out hits from artists in the Rock and Roll Hall of Fame!
OK! INTERVIEW: AMERICAN IDOLS NAIMA ADEDAPO & THIA MEGIA ON THEIR DOUBLE ELIMINATION
Jacob - "Man in the Mirror"
Kris Allen did it so much better in Season 8. This is supposed to be a low-key song and Jacob was just giving it way too much. And his not so smart comment that he will only be in the bottom 3 if people don't look in the mirror? HUH.
Article continues below advertisement
Steven: That was beautiful well done.
Jennifer: Perfect in every way, on every emotional level.
Randy: I am so proud of you. There were moments all over that.
Haley - "A Piece of my Heart"
Love Haley's crazy blues voice but felt this one was a little too gravely and felt like she was shouting too much.
Jennifer: You are showing everybody that you are a contender.
Randy: You did a cool run at the end, that's the Haley that we loved when we first saw you.
Article continues below advertisement
Jennifer: I am paying top dollar to be in the front row.
Lauren - "Natural Woman"
Lauren sounded great but did not have the energy like Kelly Clarkson did with this song. She needs to sing it like she means it. We have to see that she is connecting with it.
Steven: I love your voice.
Jennifer: You are amazing.
Randy: You picked one of the most difficult songs. But you did a good job.
OK! EXCLUSIVE: AMERICAN IDOL CONTESTANTS DISH ABOUT HAUNTED HOUSE
James - "While My Guitar Gently Weeps"
So different from James. Low-key and really shows off his pure vocals. Hit some great notes at the end. But I still get such an Adam Lambert vibe from him.
Jennifer: It's so special that you were vulnerable enough to share that with us.
Randy: That was the real true emotional side. Taking chances like that are extremely important.
Steven, That's really a proud moment for you.
Article continues below advertisement
Scotty - "That's All Right Mama"
So happy to see Scotty finally do something a little different than the usual country tune. And this was so great! Showed he can change it up and really has that star quality. Scotty could go all the way.
Randy: Scotty is in it to win it. You were having fun. This is a new Scotty!
Steven: You brought Elvis into the house! You did it well.
Jennifer: I feel a little bit of flavor with you.
Pia - "River Deep Mountain High"
Yes, she finally did an uptempo song and worked that stage. And this girl can SING. Pia has to keep showing personality and she will go far.
Steven: You killed it.
Jennifer: Vocally you proved to us that you can sing an up-tempo. You are really special up there. Start researching lots of the great performers.
Randy: What you showed me is you could definitely deliver with the up-tempo. Pia is in it to win it!
Article continues below advertisement
OK! VIDEO: WATCH JAMIE FOXX & WILL.I.AM PERFORM "HOT WINGS" ON AMERICAN IDOL
Stefano - "When A Man Loves A Woman"
Jennifer: It was amazing, magic.
Randy: The first part felt a little jerky, I liked it but I wasn't jumping up and down.
Steven: I liked the old timey thing. You've got a great range, I like that a lot about your voice. You nailed it.
Paul - "Folsom Prison Blues"
This song sounds like he is singing it so fast but it makes you want to bounce out of your seat. Love how he bops around with his guitar. Paul is just so much fun to watch.
Randy: I loved it!
Steven: You rocked the house!
Jennifer: It was a perfect way to end the show. I loved it.
This is a tough week, everyone is really talented. Who will be in the bottom 3? My pick for bottom 3 is: Jacob, Haley and Stefano. My pick to go: Jacob!
We'll find out tonight at 8 p.m.!
Written by Rana Meyer