NEWS
Watch Scotty McCreery's 'American Idol' Final Peformances: Have the Judges Turned on Him?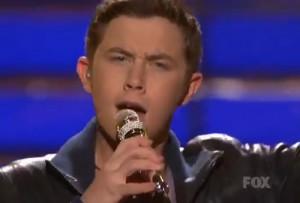 Article continues below advertisement
"I couldn't think of a better way to start the show," Jennifer Lopez gushed about his performance. Randy Jackson said he found it "brilliant."
While J.Lo and Randy gave the first round to Scotty, judge Steven Tyler was the odd man out.
"I would have to give up the first round... to Lauren, only because she's prettier than you are," Steven told Scotty, who graciously replied, "I'll take that."
Country music king George Strait picked Scotty's song for the second round: "Check Yes or No."
"I didn't think the second song from Scotty was as dynamic," Jennifer said.
In true form, Randy echoed J.Lo's sentiment and said, "This is so hard tonight. It's so even."
Then he announced that both teen contestants were "in it to win it!" but he, along with Jennifer, gave a "slight edge" to Lauren for round two.
For the final song, Scotty took the stage with "I Love You This Big," the song released on iTunes today as his first single, chosen by Idol producers.
Article continues below advertisement
"I'm proud of you because you've grown during this contest," Randy said. "That was a brilliant vocal."
"You're our great storyteller on this show," Jennifer chimed in. "That's what it takes. You have to do that with a song that nobody's ever heard before."
And then at the very end, Randy gave a "slight edge to Lauren Alaina," and longtime Lauren advocate Steven said the country cutie had it "hands down."
Are the judges trying to convince America to vote for a girl? The last girl to win the competition was Jordin Sparks, four years ago, in 2007!
Were they favoring Lauren too much last night because of her strained vocal chord? Share your thoughts in the comments and watch Scotty's performances below!
"Gone"
"Check Yes or No"