NEWS
On the Scene at 'American Idol' Final Performance Show: Scotty vs. Lauren!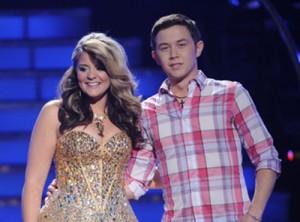 The crowds outside the Nokia Theatre were buzzing: Were the reports true? Was Haley Reinhart really going to be part of the finale? Rumors floated last night that Haley could possibly replace Lauren Alaina, who could barely sing as the she tried to rehearse her three songs for the big final performance show. Would she be able to go on?
The audience filed in to find their seats for the show. Signs from "Scotty is in it to win it" to "Lauren is our country girl" were all over the audience. Different Idol contestants from past seasons were spotted throughout the crowd, from season eight's Michael Sarver to season nine's Didi Benami to season seven's Jason Castro. The fans went nuts.
Article continues below advertisement
OK! NEWS: AMERICAN IDOL FINALE — CARRIE UNDERWOOD & GEORGE STRAIT PICK SONGS FOR LAUREN & SCOTTY!
And finally it was showtime. Lauren was there! They even brought a doctor to explain how Lauren almost couldn't go on. Were they trying to drum up sympathy votes for her? And the show began!
Scotty McCreery killed it on "Gone." Definitely the right song to be his pick, while Lauren followed him with "Flat on the Floor." And, boy, you could tell that she was hurting and that her voice was really being pushed on that one. It was strange, but there were no judges' comments at the beginning of the show. Seemed like they were saving it all until the end.
During the commercial breaks, fans screamed for Randy Jackson, Steven Tyler kept waving at everyone and Jennifer Lopez had her hair touched up, but also took time to wave to the crowd.
Round 2 — Scotty's song, "Check Yes or No," was picked for him by George Strait. Here we had our cute guy with a guitar on stage again, but this song just was as good as his first one. He does this weird side thing with the way he holds his guitar, too. Could Lauren take this round?
Article continues below advertisement
She was up next with a song chosen for her by Carrie Underwood, "Maybe it Was Memphis." Carrie had even said previously that it was a song she had wanted to do on Idol. Executive producer Nigel Lythgoe even came up on stage to talk to Lauren before she went on. Was she still worried about her voice? She didn't need to be. Lauren did well with it! She really brought the house down with the number and was showing that she was "in it to win it," as Randy would say.
Only one round was left and this hour-long show was flying by! Then it was time for the two finalists to sing the song that would be their single if they won.
Scotty sang "I Love You This Big"and sounded great. This is a kid who has been ready for that Nashville stage since day one and he really showed it last night. Scotty had the crowd in his hands after that song.
Article continues below advertisement
Lauren came up next with "Like My Mother Does," a song that she dedicated to her own mother. You could already feel that this one was going to be a tearjerker. And as the song got going, and Lauren went into the crowd and sang right to her mom, it surely was. The crowd was in awe. It was quite emotional to watch.
But who won this round? When it came down to it, the judges thought Scotty won Round 1, but Lauren Round 2. As for the Round 3, Lauren and Scotty were both so good that the judges were split.
But would Lauren have enough voice left to even go on for the big finale show the next night? She was put on vocal rest by her doctors, and in the press room right after they performed, Lauren actually had to scribble on a note pad because she wasn't allowed to say a word! She and Scotty were having a great time as he tried to read aloud everything that she was writing down.
But when reporters asked Scotty if he would shave his head for the finale, Lauren wrote in her notepad, "NO!" She didn't need Scotty's help for that answer!
It's going to be a nail-biter tonight. Who will be crowned the next American Idol? Find out tonight at 8 p.m. on Fox!