NEWS
Watch 'Sherlock Holmes: A Game of Shadows' Trailer With Jude Law & Robert Downey Jr.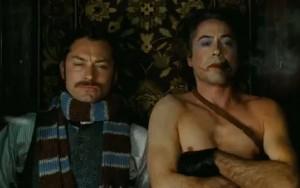 Jude Law is already back with Robert Downey Jr. in a Sherlock Holmes sequel, but this time RDJ is dressing in drag for the trailer of Sherlock Holmes: A Game of Shadows.
OK! GALLERY: SHERLOCK CAST BRACES THE BRISK BERLIN AIR
Since the first Sherlock Holmes film did so well, Guy Ritchie wasted no time turning out a sequel!
The new trailer, released by iTunes, features Robert back as detective Sherlock Holmes and Jude as his lovable sidekick Dr. Watson.
Article continues below advertisement
In one scene, Sherlock disguises himself as a woman complete with blue eyeshadow as he gets himself into trouble again.
"Get that out of my face," Sherlock tells Watson in the trailer.
"It's not in your face it's in my hand," Watson responds.
"Get what's in your hand out of my face."
More of their funny interactions can be heard when this film hits theaters December 2011!
Watch the iTunes trailer, below!