NEWS
'American Idol' Blog: The Top 7 Results!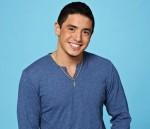 Article continues below advertisement
And with an interesting matchup of Casey, James and Scotty, they did their take on Coldplay's "Viva La Vida." Their voices didn't really mesh together. Trios or groups, these numbers are always a bit awkward.
OK! VIDEO: WATCH JACOB LUSK'S EMOTIONAL GLITCH ON AMERICAN IDOL
TIme for the results. Casey is safe, and Jacob, after having a sound glitch in his earpiece last night, has found himself a spot in the bottom 3!
Before we find out the rest of the bottom 3, season 7 winner David Cook is back to debut the single off his new album. It's called "The Last Goodbye." Love this new song! Can't wait for the rest of this album. David was definitely rocking that Idol stage again.
Now time for more results. James, Lauren and Stefano at the center of the stage. James and Lauren are safe and not shockingly, Stefano is in the bottom 3. All we have left now is Scotty and Haley. Could Scotty have a shocking bottom 3 trip? Nope. Haley is in bottom 3, too. Can this girl ever catch a break? But before Haley can barely sit down, she is sent to safety! Who will go? Stefano or Jacob?
Article continues below advertisement
OK! VIDEO: WATCH JAMES DURBIN MARCH ONTO AMERICAN IDOL STAGE SINGING MUSE'S "UPRISING"
But first: Katy Perry hits the stage with Kanye West singing "ET." And wow, boy am I glad that is over. Can this girl even sing without a backing track?
And finally, truth time. And Stefano was voted off. He had some great performances but it was his time to go. And wow, Stefano and James must be really close friends as James looked extremely upset at these results.
Next week, the Top 6 will be singing Carole King songs! Catch it on Wednesday at 8 p.m.
Written by Rana Meyer