NEWS
Watch Tony Parker & Erin Barry Star in Spurs Spoof Video with Eva Longoria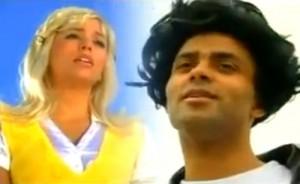 Looks like the San Antonio Spurs (and their wives) were a close knit group. Tony Parker's alleged fling Erin Barry — wife of Spurs guard Brent Barry — starred alongside Eva Longoria and Tony last year in a promotional video for the basketball team singing the beloved Grease hit "Summer Nights."
The 2009 video features Tony dressed as Danny Zuko, Eva as the innocent, demure blonde Sandy D and Erin as the spitfire Rizzo!
Article continues below advertisement
Eva gets kicked off the picnic table bench, halfway through the skit, by Erin's character who throws her into a garbage can.
Seems cryptic looking back, as Erin is the woman at the center of the Tony Parker scandal. Eva confirmed earlier this week she filed for divorce after seeing text messages in Tony's phone.