NEWS
Watch the Trailer for 'Getaway' Starring Selena Gomez and Ethan Hawke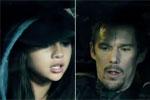 If her role in Spring Breakers didn't prove that she's not the same little girl as she was a few years ago, the trailer for Selena Gomez's new movie, Getaway, will.
Photos: Stars Who Went From Kiddie Roles to Scandalous Ones
In the trailer, Selena trades her wand for a gun as she finds herself side-by-side with co-star, Ethan Hawke, who is battling to rescue his kidnapped wife. She definitely takes on a more emotionally mature and physically demanding role than we're used to seeing her play, and we're kinda loving how totally badass she looks. Hm, guess it's not such as bad thing that she's planning to focus on her film career from now on, right?
Article continues below advertisement