NEWS
Watch Will Ferrell Spoof Osama bin Laden Death Announcement as George W. Bush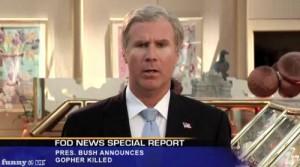 Will Ferrell is back to impersonating George W. Bush in a new Funny or Die spoof. While President Barack Obama was announcing the death of Osama bin Laden, Bush had an important death announcement to make of his own.
OK! VIDEO: WATCH REBECCA BLACK WELCOME OSAMA BIN LADEN TO HELL WITH "FRIDAY" IN JIMMY KIMMEL SPOOF
"I've personally overseen a strategic and covert operation that killed the gopher who's been tearin' up my back yard," Will, as Bush, said in an address from a Sizzler Steak House in Texas. "This gopher has been responsible for terrorizing Laura's fruit trees and diggin' up holes all over the yard, causing me to trip and fall over them no less than 15 times a day."
Article continues below advertisement