NEWS
Weekend in Review: Busy, Busy...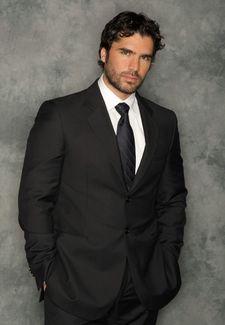 I'll try to get back to some semblance of updating more daily, but in the meantime (before a certain friend and former colleague asks me if Simplyjen is on strike, again)…
It was a weekend work rewinding, so as I sit here on my couch with "So I'm a Celebrity…Get Me Out of Here," on in the background for the first and potentially last time…
FRIDAY:
Thanks to in-flight Wifi courtesy of GoGo, I worked my way through a flight from NYC back to LA. Amber Tamblyn (Sisterhood of the Traveling Pants) was on my flight.
Article continues below advertisement
Friday night I went to the Stella McCartney boutique for a screening of Home, an environmental film that screened in over 50 countries that day in honor of World Environmental Day. The store's courtyard was the perfect setting for an eco-friendly evening picnic and I nibbled on organic tea sandwiches from Real Food Daily and chickpea-based gingerbread cookies (that were actually really good) while talking to Kat McPhee and her husband Nick. A table or two in front of me Cameron Diaz laughed with Liv Tyler – until the two hour documentary began. Although many continued to chat through the film, one would have though Cameron was in a trance if not for occasionally raising her arm to sip champagne or eat popcorn.
After a couple of hours I left the party as Charlize Theron pulled up in her Lexus SUV and was walking in with beau Stuart Townsend. Despite getting back from NYC that morning, I couldn't resist joining the girls at Chateau Marmont where I ran into Eduardo Verastegui, the star of the beautiful film Bella who I hadn't seen since I had dinner with him, his co-star Ali Landry and her husband, the film's director Alejandro Gomez Monteverde, since I first moved to LA over a year ago. Gorgeous and lovely as ever (see photo), it was amazing running into him, and coincidentally running into Ali and Alejandro yesterday!