NEWS
Weston Cage Announces on Facebook Plans to Divorce His Allegedly Pregnant Wife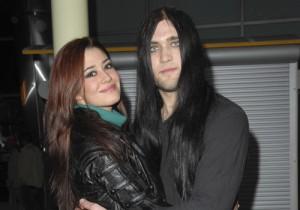 Article continues below advertisement
According to E! News, it all started when Weston and Nikki got into an argument over the Fourth of July, which resulted in both of them being arrested for domestic violence. But Weston claims in a video he posted on Facebook that he was the one abused.
"Made my choice," he wrote in a post today (via E! News). "Getting divorced."
But that wasn't the only announcement Weston wanted to make: He also suggested Nikki is pregnant.
"Have fun killing my child BREYAN PRESCOTT," the 20-year-old added.
OK! NEWS: NICOLAS CAGE NEVER LIKES TO BE AWAY FROM FAMILY
Before these posts, Weston had also reportedly posted a video asking his friends to "Vote on the Divorce. Yes or No."
"Traditionally, the person that is abused or attacked or victimized is the one who usually breaks up with the other," he said in the video. "It's hard to believe but I was the one abused....I got three witnesses, a video recording, I was sober."
And he already had the divorce papers in his hand.
"I'm not gonna be the one that gets dumped. Because it just wouldn't make sense. Why would I abuse the person I was trying to save?" he asked. "If I hit somebody which I haven't done in years...you want war, fine? Then let's have war. You want peace, I prefer that."
And Weston even changed his Facebook status from "Married" to "It's Complicated."