NEWS
What Lindzi Cox Learned from 'The Bachelor': "Men Like Naked Women & Skinny Dipping"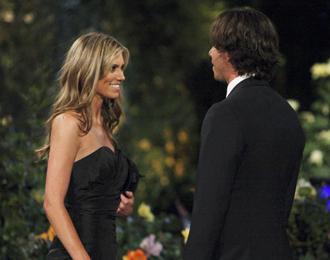 Lindzi Cox may have been rejected by The Bachelor's Ben Flajnik, who proposed to Courtney Robertson on last night's finale, but she has no hard feelings. She admits to OK! that she's "in a really good place" and satisfied with the way things turned out.
OK! NEWS: BACHELOR FINALE: BEN FLAJNIK PROPOSES TO COURTNEY ROBERTSON, BUT ARE THEY STILL TOGETHER?
"I am happy about how things ended for me," Lindzi told reporters in a conference call today. "I don't feel like 'I dodged a bullet.' Things worked out the way they were supposed to work out."
Article continues below advertisement
Although Lindzi confesses to OK! that she hasn't "heard or talked to either Ben or Courtney" since the finale, she admits that she doesn't need closure. She also adds that she's learned a lot from being on the show, not just about herself, but about men in general.
"I learned that men like naked girls and skinny dipping," Lindzi joked, adding on a more serious note, "The Bachelor taught me how to be open with my feelings. I learned how to let my guard down more."
As for her now famous line to Ben as he walked her out — you know when she said, "If it doesn't work out, call me!" — Lindzi says it was all a joke, and in reality, she probably wouldn't take Ben back.
"I don't know if I would be open to giving Ben another chance," she confirmed, adding that if he wasn't "sure" about her then, she probably wouldn't trust him now. "I feel like there is a friendship there though," she said, before joking, "Personally, I don't like Ben's haircut!"