NEWS
What We Learned From Last Night's Real Housewives of Miami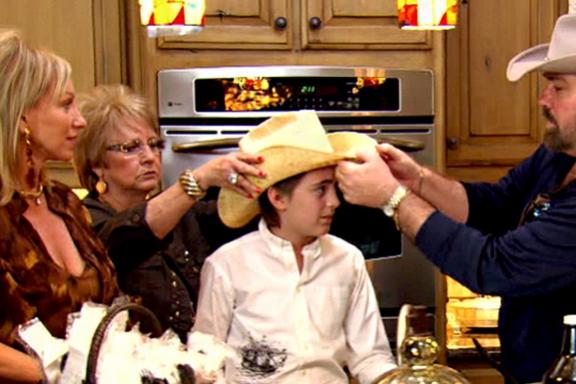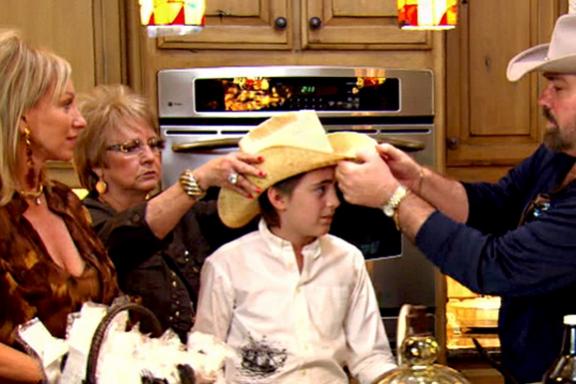 This week's episode opens with Lea and her son RJ packing to head to Texas.
OK! News: The Secret to Kate Winslet's Sleek Maternity Style
Joanna and Romain are Skyping with his biological mom (who seems awesome, by the way) to share the news about their wedding date, which happens to be right around the time she's having surgery on her back. Cross one person off the guest list. The next Skype call goes to Romain's dad, who says he won't be able to make it either. This is getting depressing. Next up: Romain's brother, who isn't sure he can clear his schedule. People, it's a wedding! Get it together! It's not like they're asking you to change your wardrobe midway through the day…
Article continues below advertisement
Enter newly married Adriana who wants to chaperone her son Alex's first dance. Just say no to it, Alex. Just. Say. No.
OK! News: Karina Smirnoff Partners with Foot Petals on Limited Edition Collection
Lisa is in for the surprise of the year when she meets Lea's Texas family, who are nothing like she expected. They're totally normal and down-to-earth. No Birkin bags here. Lea admits if she's the outsider, it's been by choice. I hear ya, sister. I'm with you on being the intentional black sheep of the family.
And, by the way, loving Lisa's Texas attire. Rock that denim jacket, girl.
Lisa is like the Nancy Drew of this family reunion. She's doing her best to get to the bottom of what Lea is all about. We learn Lea was popular in high school, she's got a big heart and she's bossy...and then we hear of a sister named Kim who passed away from a freak accident. While Lea's family is pretty open about it, Lea herself shuts down.
Article continues below advertisement
OK! News: Kendall Schmidt Announces Tour With Heffron Drive
Back in Miami Romain tells Joanna he's changed his mind about needing a prenup before they get married. It's so nice to see these two in a good place this season.
Alexia and Herman are celebrating their 10th wedding anniversary. Is it just me or does Alexia have a party in almost every episode this season? Woman likes to throw a bash. There's a really sweet moment between her sons Peter and Frankie. Everything appears to be on the up and up in this household.
Lea introduces Lisa to some of her former coworkers. I live for these old infomercials of Lea hocking skincare. They are so amazing.
Marysol arrives at Alexia's gathering but she's not exactly in the party mood. She's worried about her mom and feels like Elsa is getting worse rather than getting better.
OK! News: Is Snooki Trading in the East Coast For The West?
Back at the ranch, literally, Lea and Lisa are two-stepping with some cowboys. They decide to take on the mechanical bull at the bar while RJ is ordering up room service for him and Grandma at the hotel. The next day they get the heck out of dodge.
Next week it looks like everyone is fighting with one another. So much for keeping the peace!
What did you think of last night's episode? Tell us in the comments or tweet @OKMagazine.