NEWS
What Would the Countess Do?: Graceful Comebacks; Family Fun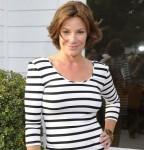 When it comes to etiquette, manners and overall good behavior, even celebrities need help navigating the rough waters of stardom! It's a good thing Countess LuAnn de Lesseps of the Real Housewives of New York is joining forces with OK! to school them on the right thing to do! In a rough situation, we just ask, "What Would the Countess Do?" This week she tackles graceful comebacks and planning fun for the whole family!
Article continues below advertisement
OK! WHAT WOULD THE COUNTESS DO?: DECLINING INVITATIONS; PUBLIC REVENGE
With reports of Lindsay Lohan crying in jail and having a rough time there, how do you cope with seriously stressful situations? How do you make a graceful comeback after something so life-changing?
Maybe I should have included "jail etiquette" in my book Class with the Countess? It seems like every time I read the news, another young celebrity is heading to prison! Lindsay Lohan cried in jail because she's locked up with criminals and is probably very scared. If I were in Lindsay's situation, I would've tried to make friends and follow the rules. Hopefully she will learn something from this experience so she never has to see the inside of a jail cell again and move on with her life in a more positive way.
MORE ON:
Countess LuAnn De Lesseps
Tip: It's not about how you fall, it's about how you pick yourself up.
OK! WHAT WOULD THE COUNTESS DO?: OVERPROMOTING YOURSELF; HITTING THE BEACH!
The summer is all about having fun with your family — any tips on how to plan a summer soirée for both parents and kids to enjoy?
Parents and children have different opinions on what makes a great summer party. Melding the expectations of both age groups can be tricky but I find that if you have activities for children, such as swimming, croquet, and badminton that parents will enjoy as well, the party is a lot more fun. In the summer, it's great to host a BBQ where children can be under your watchful eye while playing in the garden while you enjoy a cocktail with your friends. Remember when throwing a party that includes young children to consider what kids like to eat and drink. Having the party outdoors is usually your best bet.